The HTC event countdown is yet to reach zero but eager people with access to the new device – the HTC One – are already posting video reviews on YouTube. The extensive walkthrough gives a lot of specs and features, some of which we didn't expect.
According to the video, the HTC One has a 4.7" Super LCD 3 display with 1080p resolution and 469ppi pixel density. The bezels are very thin, making for a narrow device, and actually notably smaller than the DROID DNA / Butterfly.
Around the display sit the stereo speakers, which are pretty loud ones apparently at 93dB.
The One will be powered by a Qualcomm Snapdragon 600 chipset with four Krait 300 cores clocked at 1.7GHz, 2GB of RAM and Adreno 320. The phone will launch with Android 4.1.2, but a 4.2.2 update is reportedly already in the works.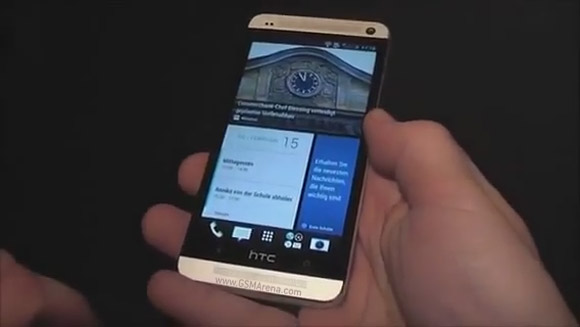 Update: YouTube took down the video. No matter, the official announcement will start in a couple of hours and we'll get to see the HTC One live.
HTC has put the latest Sense customizations on top and it's very different than the previous iterations. The homescreen shows something that looks like a mix between Sony's Timescape and Windows Phone's live tiles with social networking updates and news feed populating a vertically scrollable screen.
The button arrangement is odd too – there are capacitive buttons but only two of them, Home and Back. A long press on Home launches Google Now, while a long press on Back is supposed to launch the task switcher, just like in Windows Phone (but it's not shown in the video).
The HTC One is made out of aluminum and measures 9.3mm thick. Around the sides we get the usual - microSIM slot, microUSB, volume rocker. Surprisingly, the Power/Lock key on top is transparent and doubles as an IR port to control home equipment.
Inside the phone is a 2,300mAh non-removable battery (that's more capacity than the Butterfly has).
Of course, the biggest innovation on the HTC One is the camera – a stacked sensor with ultrapixels that's similar to the Foveon X3. The sensor has only about 4 million ultrapixels, but they are not directly equivalent to pixels on a regular camera sensor, so we're excited to see what the difference in image quality will be. The sensor sits behind an bright F/2.0 lens.
That's all we got from the video, but we'll be attending the HTC event live to confirm (or refute) these specs and tease out more.